Hotels and other Accommodation
World Nomads
The Travel Insurance with the largest coverage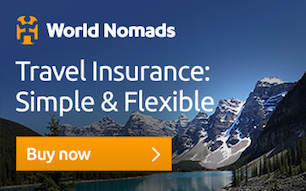 ---
Ecuador
Ecuador is a representative democratic republic in northwestern South America, bordering Colombia to the north, Peru to the east and south, and the Pacific Ocean to the west.
Ecuador also includes the Galapagos Islands, in the Pacific, about 1,000 km (620 miles) west of the continent.
Its capital is Quito, which was declared a World Heritage Site by UNESCO in 1970 for having the best preserved and least altered historic center in Latin America.
The largest city in the country is Guayaquil. The historic center of Cuenca, the third largest city in the country in size and economically, was also declared a World Heritage Site in 1999, as a notable example of a planned, interior-style Spanish colonial city in the Americas.
Ecuador is home to a wide variety of species, many of them endemic, such as the Galapagos Islands. This diversity of species makes Ecuador one of the seventeen most diverse countries in the world, and considered the most biodiverse country in the world per unit area.
The new 2008 constitution is the first in the world to recognize legally enforceable rights to Nature, or the rights of ecosystems.
Ecuador is a presidential republic. It became independent in 1830, having been part of the Spanish colonial empire and, for a much shorter time, the Republic of Gran Colombia.
---
Official language
Spanish
---
Currency
American dollar
---
Tourism
Ecuador's tourism opportunities include a variety of activities such as horseback riding, river and sea kayaking, swimming, surfing, skiing, jet skiing, paragliding, skydiving, rafting, trekking, hiking, volleyball, scuba diving, mountaineering and mountain biking.
Some of the activities are a bit extreme, while others are soothing and relaxing, thus giving you the opportunity to choose the one that best suits each visitor.
Some places offer a variety of activities, while others offer practically none, so it is always better to ensure the type of activity you want, to be available at the chosen destination.
Ecuador's tourism council is well-established with regard to informing tourists about the risks involved in such activities and ensuring that they are practiced in the safest possible conditions.
This means that visitors should pay attention to these warnings for their own safety.

The Galapagos Islands are, in themselves, a huge tourist attraction. Diving spots and nature walks are available on all islands, so it is advisable not to forget about the cameras taking pictures or filming.
For those who like the Galapagos Islands, do not miss the Machalilla National Park. The park is very large and still includes Isla de la Plata. Plant life and animal life are preserved here in all forms and shapes.

Another reason why Ecuador's tourism grows is due to the strong prevalence of Inca ruins in the area.
The Inca Ruins of Ingapirca are quite large and impressive to see.
Also noteworthy are the Inca ruins of Rumicucho, La Tolita and Tomebamba.
The Incas were not the only culture to leave their mark here.
There are several ruins related to the ancient Valdivia culture on the outskirts of Guayaquil.

Also popular with tourists is the Otavalo market in Otavalo.

The abundance of handcrafted goods can make it quite challenging to choose what to buy, but you will be sure to have high quality regardless of which one to choose.

There are plenty of tours available in the jungle. Actually, Ecuador has so much to do and see that you can never get bored.
---
Gastronomy
Ecuadorian food is a blend of influences and ingredients that have emerged over a continuous time of more than 500 years since the Spanish conquest.
Most people know the main native ingredients of the Andes, such as potato, corn, quinoa, avocado, cassava, and chili (ajis). If we add to this the rich seafood naturally found on the coast and the fruits of the tropical regions of Ecuador, we end up making perhaps the most colorful and nutritious cornucopia on the globe.

But other traditional ingredients that were somehow forgotten through colonization began to once again be used as mashua and broccoli - local tubers and legumes, along with herbs like Ortiga, and pussy beans.

Traditional meats also have a place at the table of many Ecuadorians. Although repulsive to some, the guinea pig, or guinea pig, compared to a rabbit, can be a daily diet or a delicacy. The cuy can be grilled, cooked or fried and is easily found in popular markets as well as the finest restaurants in Quito.

When the Spaniards arrived they brought with them new products, like wheat and other grains, which gave birth to fermented bread.
They introduced livestock not only as a source of meat, but as the basis for dairy products.
Chickens and pork accompanied by peas, onions and cabbage, as well as new nuts (almonds, peanuts) and fruits (apples, pears, papaya).
The technique of making soups or stews, came from Europe - a French influence that made its way through the ocean and eventually transformed local cuisine.
Europeans brought dairy products, combined them with the native potato and eventually produced a soup that gives the Ecuadorian Andes their identity: locro.

But Ecuadorian soup traditions simply begin with locro. In each corner of each province were born broths, casseroles, repe, sancocho, viche, aguado, timbushca, and soups of green balls.

Basic preparations of pork include pork fry, baking, a slow cooked pork pulled.
Each dish has its own accompaniments, which can vary from city to city.

As in almost all Latin America the empanadas also can not be missing, leaving 3 species: the empanadas de viento, morocho and corn.

Banana is a fruit that in addition to being one of the strong products exported by Ecuador, is a fruit used in cooked or fried, such as maqueño, green plantains, ripe bananas, Patacones.

The Ecuadorian identity also comes in liquid form, such as fruit juices of 6 to 12 flavors to choose from, including: blackberry, orange, graviola, watermelon, papaya, tree tomato, guava, pineapple, taxo, passion fruit ..


Chicha, Canelazo, Horchata, Chocolate, Coffee, Tea and Wine are examples of traditional drinks of Ecuadorian origin, others such as tea and wine, originating in Europe during Spanish colonization.
 
French and Italian restaurants use native ingredients from Ecuador in their own traditional dishes. Asian cuisine has brought new flavors to Ecuador. Spanish roots and French influences mean that Mediterranean food will always be present in the country as well.

The best steaks, pizza and sushi are easily found in the main cities of Ecuador, as well as the traditions of other Latin American countries.
---
Weather
Ecuador has an equatorial climate, varying by region, due to differences in altitude and proximity to the equator.
Along the narrow coastal plain, temperature and humidity are high throughout the year.
The coastal plains west of Ecuador are typically hot, with temperatures in the region of 25 ° C (77 ° F).
The days are typically hot and cold nights with little variation of seasonal temperature.
Coastal areas are affected by ocean currents and between January and April are hot and rainy, however most precipitation occurs between December and April, being much more important in the north of the country than in the south.
---
Documentation
Tourists from most countries in the world who travel to Ecuador for tourism, business or study do not need a visa unless they expect to stay in Ecuador for more than 90 days in a calendar year. The only requirements are:
Passport valid for more than 6 months.
Return ticket (by air, land or sea travel).
Proof of economic means to support yourself during your stay in Ecuador (may be requested by immigration authorities)
The nationals of the following countries need a tourist visa that they must request from the Consular Services of Ecuador in the country of their residence (Algeria, Bangladesh, Costa Rica, Cuba, El Salvador, Guatemala, India, Iran, Iraq, Jordan, Lebanon, Libya, Nicaragua, Nigeria, North Korea, Pakistan, Palestine Authority, Panama, the People's Republic of China, Sri Lanka, Syria, Tunisia and Vietnam.
---
Health care
In Ecuador, good medical treatment can be expensive and is not always available outside major cities.
Private hospitals require a credit card guarantee for admission. Make sure you have adequate travel health insurance and affordable resources to cover the cost of any medical treatment abroad and repatriation.
There are limited facilities on the Galapagos Islands. If traveling to the Galapagos Islands make sure your insurance includes evacuation by air ambulance.
Parts of Ecuador (including Quito at 2,800 m) are at high altitude. If you plan to travel to altitudes over 2,500 meters you should consult your doctor before traveling.

Vaccination against yellow fever is required for travelers from countries at risk of yellow fever transmission.
---
Safety
There are a number of active volcanoes in Ecuador. The press and on the website of the National Institute of Geophysics of Ecuador (in Spanish) should be monitored for the latest information on volcanic activity. If you are planning to climb one of the volcanoes in Ecuador, you must hire an official mountaineering guide.

Exposure, the ashes from a volcanic eruption can be harmful to health, especially if you have existing respiratory problems. It is advisable to stay indoors with the windows and doors closed by placing wet towels on the door sills and other possible ash entrances.
If you leave, wear a disposable face mask and change it frequently. Wear long-sleeved clothing and long pants to protect your skin, and goggles to protect your eyes.

There is a low threat of terrorism. Be aware of the overall risk of indiscriminate terrorist attacks, which may be in public areas, including places frequented by foreign travelers.
---
Telecommunications and electricity
Telecommunications
The local GSM mobile network does not have agreements with international roaming operators; European, Australian and other GSM cell phone network phones do not work, but mobile phones can be rented at international airports or at specialty stores.

Internet
Internet cafes are available in major cities.

Electricity
The type of electricity is the same type used in the United States, 120v of 50Hz frequency.

A converter is required only if the voltage requirement of which it is connecting is different from the electrical voltage of the Equator of 120.
Most modern electronic gadgets, such as digital cameras, cell phones, computers and battery chargers are dual voltage, so a converter is no longer necessary if you visit a country that uses 220 or 240v.
Check each of your devices to ensure they are double voltage.

An adapter for different plugs of your device may be required.
It is advisable to purchase a set of universal adapters suitable for use in most outlets in all countries.
---
Other tourist destinations in:

Ecuador
---
Other world tourist destinations
---
City destinations and weekend getaways
---
Why to book with CLUBE TRAVEL
The best prices
Our partnerships with the world´s largest operators offer research on the best market prices.
More options
At Rotas Turisticos you can book the hotel, buy the air ticket, book the transfer from the airport to the hotel and vice versa, book the local excursions, rent the car, take travel insurance and consult the places to visit and where to go.
Holiday Tips & Destinations
Hundreds of holiday destinations with all the options that allow you to easily choose the destination that best suits your dream vacation.
---
---