Pictures of: Sofia, Bulgaria
Hotels and other Accommodation
World Nomads
The Travel Insurance with the largest coverage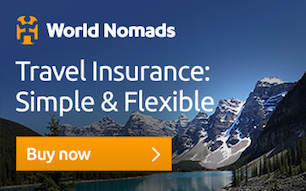 ---
Weather
Summer is warm and almost cloudless in sky; Winter is very cold, dry and partly cloudy. Throughout the year, the temperature generally ranges from -5 ° C to 28 ° C and is rarely below -12 ° C or above 34 ° C.
---
Security
Although the general environment is calm and the circulation in the main cities is without major difficulties, the crime is organized, and the occurrence of small crimes that, as a rule, have a higher incidence on travelers.
Attention is recommended to small thefts, particularly travelers traveling in more touristy areas.
Emergency Phone Numbers
- Ambulance - 112
- Firefighters - 112
- Police - 112
---
Gastronomy
Among the dishes that can not be missed in your Bulgarian dining experience is Shopska, a leafless salad. It consists of cucumber, tomato, red onion, pepper and lots of parsley and chives and one white cheese on top. A very refreshing and tasty salad. Another specialty is Mekitsa, a sugar-coated fried cookie, with variations on Nutella, coconut and other flavors. Rakia is the typical Bulgarian drink, is a liqueur produced by distillation of fermented fruits.
---
What to do
Try the typical cuisine
Make a toast with Rakia
Know the religious temples
Go to a classic theater
Eating Bulgarian Yogurt (Kefir)
Walk through Yuzhen Park
Walk the trails of Vitosha Mountain
Visit Sofia Central Market
---
Tourist points
Sofia is home to many of Bulgaria's finest museums, galleries, restaurants and clubs, Sofia can convince you to stay here and explore further.
Aleksander Nevski Cathedral
Sveta Sofia Church
Boyana Church
Archaeological Museum
Sveti Georgi Roundabout
Museum of Socialist Art
Sofia History Museum
National Museum of History
Zlatnite Mostove
Ancient Serdica Complex
Sofia Synagogue
Muziko
Sveti Nikolai Russian Church
Sveta Petka Samardzhiiska Church
Sofia Zoo
National Museum of Natural History
Aleksander Nevski Crypt
Dragalevtsi Monastery
National Gallery Quadrat 500
Ethnographical Museum
Monument to the Soviet Army
National Museum of Military History
Peyo Yavorov House-Museum
National Polytechnic Museum
Sveti Sedmochislenitsi Church
Sofia City Garden
Sveta Nedelya Cathedral
Sofia University Botanical Garden
among many more tourist attractions
---
Presentation
Sofia is the capital of Bulgaria, a country of the Balkans. Sofia is one of the oldest capital cities in Europe, Sofia's history dates back to the 8th century BC.
Sofia isn't a big metropolis, but it's a modern, young city, with a variety of onion-domed churches, Ottoman mosques, and Red Army monuments that give it an eclectic and exotic feel. Excavation work carried out during the construction of the metropolis revealed a treasure trove of Roman ruins from nearly 2000 years ago when the city was called 'Serdica'. Away from the buildings and boulevards, vast manicured parks and gardens offer a welcome rest, and the ski slopes and trails of mighty Mount Vitosha are a short bus ride from the center. Home to many of Bulgaria's finest museums, galleries, restaurants and clubs, Sofia can convince you to stay here and explore further.
---
Other tourist destinations in:

Bulgaria
---
Other world tourist destinations
---
City destinations and weekend getaways
---
Why to book with CLUBE TRAVEL
The best prices
Our partnerships with the world´s largest operators offer research on the best market prices.
More options
At Rotas Turisticos you can book the hotel, buy the air ticket, book the transfer from the airport to the hotel and vice versa, book the local excursions, rent the car, take travel insurance and consult the places to visit and where to go.
Holiday Tips & Destinations
Hundreds of holiday destinations with all the options that allow you to easily choose the destination that best suits your dream vacation.
---
---