Pictures of: Meteora, Greece
Hotels and other Accommodation
World Nomads
The Travel Insurance with the largest coverage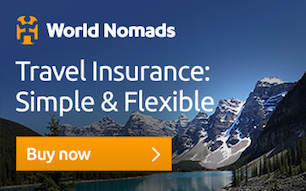 ---
Meteora, Greece
Kalampaka (also known as Kalambaka or Kalabaka) is a city of 12,000 citizens and is situated at the foot of the most extraordinary rocks of Meteora. It is sometimes underestimated as merely sharing the glory of the Meteora spiers that rise spectacularly in the near background. However, it is a city with a very rich and long history in itself.

The exact date of the construction of the monasteries is unknown. In the late 11th and early 12th centuries, a rudimentary monastic state formed called Skete de Stagoi was centered around the still existing church of Theotokos (Mother of God). In the late twelfth century, an ascetic community met in Meteora.

In 1344 Athanasios Koinovitis from Mount Athos brought a group of followers to Meteora. From 1356 to 1372 he founded the great monastery of Meteoron on Broad Rock, perfect for the monks, they were safe from political upheavals and had complete control of the entrance to the monastery. The only way to reach it was to climb a long staircase, which was raised whenever the monks felt threatened.

By the end of the fourteenth century, the reign of the Byzantine Empire over northern Greece was increasingly threatened by Turkish invaders wishing to control the fertile plain of Thessaly. The hermit monks, seeking refuge from the growing Turkish occupation, found the Meteora rock pillars inaccessible, thus forming an ideal refuge. More than 20 monasteries were built, beginning in the fourteenth century. Six remain to this day.

In 1517 Theophanes built the monastery of Varlaam, which was reputed to house the finger of St. John and the shoulder blade of St. Andrew.

Access to monasteries was originally (and deliberately) difficult, requiring long locked stairs or large nets used to carry goods and people. The ropes were replaced, according to history, only "when the Lord let them go." In the words of UNESCO, "the net in which intrepid pilgrims were hoisted vertically along the 373 meter (1,224 ft) cliff, where the Varlaam monastery dominates the valley, symbolizes the fragility of a traditional way of life that is threatened with danger. extinction.
---
Other tourist destinations in:

Greece
---
Other world tourist destinations
---
City destinations and weekend getaways
---
Why to book with CLUBE TRAVEL
The best prices
Our partnerships with the world´s largest operators offer research on the best market prices.
More options
At Rotas Turisticos you can book the hotel, buy the air ticket, book the transfer from the airport to the hotel and vice versa, book the local excursions, rent the car, take travel insurance and consult the places to visit and where to go.
Holiday Tips & Destinations
Hundreds of holiday destinations with all the options that allow you to easily choose the destination that best suits your dream vacation.
---
---