Hotels and other Accommodation
World Nomads
The Travel Insurance with the largest coverage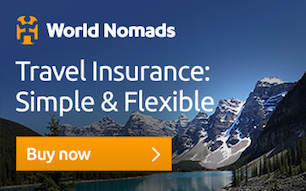 ---
Weather
Western Cape Province (Cape Town) has a Mediterranean climate with hot summers and rainy winters, and very strong winds can occur. Note that, in general, the winter period is colder than might be expected in a country on the African continent.
---
Security
Although considered one of the most violent cities in South Africa, it is also the one with the highest number of tourists and the least frequent burglary (or other) in tourist areas. Remote areas and peripheral and / or more degraded neighborhoods should therefore be avoided. The city center / areas most sought after by tourists can be safely visited during the day, although walking at night should be avoided.

Avoid bringing large amounts of cash and personal effects of remarkable value. The traveler must keep identification documents, money and valuables in the safes of hotels or accommodation, even at their own risk, given that many of these devices have security vulnerabilities; and be careful not to display cameras and other public places on the streets and other public places, such as cell phones and jewelry. You should pay close attention to your belongings and never lose sight of them. You should leave your accommodation outside with the necessary cash and documentation. Photocopy all your documents and do not move with originals, except when indispensable.
 
Never walk alone or in isolated or poorly lit areas. Walking on public roads should be limited to overtly policed ​​areas.

Emergency Contacts:
 
- Police (Flying Squad) - 10 111 or 112 (mobile phones only);
- Medical Emergency - 10 177;
- Firefighters (Cape Town) - 107;
- Provincial Police Commissioner (Cape Town) - 021 4177389.
---
Main tourist points
Victoria & Alfred Waterfront - Named after Queen Victoria of England and her son, Prince Alfred, the V&A Waterfront is located in the country's oldest working port. This vibrant area is home to a shopping mall, food and crafts market, an aquarium, hotels and many other attractions.
Table Mountain is one of Cape Town's most famous landmarks and is part of a national park. It has many popular trails and a cable car that takes visitors to the summit.
Lion's Head and Signal Hill provide a dramatic backdrop to the city next to Table Mountain. The unusual peak is climbed by thousands of locals and tourists every year.
Zeitz MOCAA will be the largest museum on the continent displaying contemporary African art.
Robben Island - This small island in the middle of Table Bay has a long and tortuous past, but is best known as the place where Nelson Mandela spent 18 years of his 27-year prison sentence during apartheid.
Cape Point Nature Reserve is in the far southwest of Africa, within Table Mountain National Park. Immerse yourself in dramatic cliffs, breathtaking views and acres of land rich in indigenous flora and fauna.
Boardwalk - This is a wonderful place to work out, people watch or just enjoy the ocean view.
Beach - From Clifton to Muizenberg, Cape Town has many pristine beaches, perfect for sunbathing and water sports.
Cape Wineries - Take a day trip to the lush Winelands, where country life is complemented by award-winning wines and cuisine.
Neighbourgoods Market - This lively Saturday market, held at Old Biscuit Mill, is the ideal place for fresh produce, artisan food and live music.
Camps Bay is famous for its beachfront restaurant strip, picturesque beach and amazing sunsets.
The Castle of Good Hope is a historic fort built by the Dutch colonists in the 17th century.
The Company's Garden is a beautiful oasis in central Cape Town, with many interesting features and attractions, such as South Africa's oldest cultivated tree.
Iziko South African Museum & Planetarium
Visit Boulder Beach in Simon's Town to see the lovely African penguins.
Rhodes Memorial - Greek style monument is found on the slopes of Devil's Peak and offers stunning views of the city.
Kirstenbosch National Botanical Garden
St george's cathedral
Chapman's Peak Drive
---
What to do
A gathering of cultures, cuisine and scenery, there is no place like Cape Town, a singularly beautiful city crowned by the magnificent Table Mountain National Park. Tourists can enjoy a variety of outdoor activities, from hiking, biking, surfing and paragliding to whale watching trips and cage diving with great white sharks.
On Robben Island, history buffs can see where Nelson Mandela was imprisoned for 18 years. Inside, the elegant Stellenbosch is a nirvana for those who like food. Along the rocky coast, scenic walks cut into mountains that plunge into the sea, penguins walk on pristine beaches and Cape Point is part of a UNESCO World Heritage Site with one of the richest floral kingdoms in the world.
Bars, nightclubs, interesting restaurants and trendy clothing stores are what you can expect on Long Street. It is worth exploring the city's most vibrant street, night and day. If you have increased your appetite, just indulge in any of the local restaurants.
---
Gastronomy
There is an old joke that in South Africa chicken is classified as vegetable. This is a country where braai is a national symbol and meat plays an important role in every kitchen in the country.
---
Presentation
Cape Town is part of the Cape Town Metropolitan Municipality in the Western Cape Province of South Africa. Cape Town is famous for its natural harbor, including well-known landmarks such as Table Mountain and the Bay of Cape Town. Mesa being one of the most popular national tourist destinations.
Cape Town was originally established as a refueling station for ships heading east from the Netherlands. It boasts a picturesque location on the South African coast, offering stunning bay and ocean views with Table Mountain as a scenic backdrop. It is considered one of Africa's most popular tourist destinations because of its stunning landscapes, mild climate and excellent tourist facilities. It is a cosmopolitan city with many breathtaking sights, diverse cultures and history.
---
Other tourist destinations in:

South Africa
---
Other world tourist destinations
---
City destinations and weekend getaways
---
Why to book with CLUBE TRAVEL
The best prices
Our partnerships with the world´s largest operators offer research on the best market prices.
More options
At Rotas Turisticos you can book the hotel, buy the air ticket, book the transfer from the airport to the hotel and vice versa, book the local excursions, rent the car, take travel insurance and consult the places to visit and where to go.
Holiday Tips & Destinations
Hundreds of holiday destinations with all the options that allow you to easily choose the destination that best suits your dream vacation.
---
---