Hotels and other Accommodation
World Nomads
The Travel Insurance with the largest coverage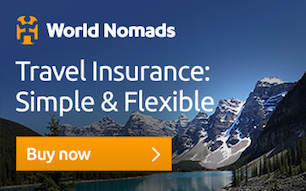 ---
Weather
Extreme continental climate characterized by large thermal ranges and strong variations in atmospheric pressure. Even in summer, due to the altitude, the nights can be very cold. It must be prepared for all weather conditions.
---
Local currency
Local Currency - Togrog.
---
Travel documents
An entry visa is required.
If you plan to travel to Russia or China (by train or by land), it is advisable to have visas for these countries in advance. Obtaining it from Ulan Bator can be difficult.
---
Security
Security conditions are satisfactory but there is an increase in petty crime, particularly in the capital, so you should maintain the usual precautions everywhere but most intensely in the capital, Ulan Bator, and tourist or compulsory tourist sites like airports, monasteries, museums, markets and public transport. The large market, often known as the "black market," has a large number of thieves. A similar situation arises during the Naadam celebrations (July 11, 12 and 13), where there is a large concentration of crowds.
It is not advisable to stroll overnight in the capital.
Keep a copy of the passport stored in a place other than the original.

Useful numbers:
Police - Tel: 102
Urgency - Tel: 103
Fire Department - Tel: 101
---
Health and vaccination
Sanitary and medical conditions are poor in Mongolia, especially outside the capital.
There are cases of tuberculosis and hepatitis B. Foot-and-mouth disease and brucellosis are endemic. There are also cases of rabies. Although not mandatory, you should check that your basic vaccines are up to date.
In summer, quarantines and, consequently, regions prohibited to travelers may be declared due to foot-and-mouth disease or brucellosis. Hunting or meat consumption is not advisable at this time.
You should also avoid consuming raw or undercooked food products, especially meat and eggs.
You should consult your doctor before travel, and it is advisable to take out health insurance that covers all medical expenses, including explicit repatriation from Mongolia.
---
Communications
If you plan to travel inland, you should consider bringing a satellite phone. Communications are poor especially outside the capital, Ulan Bator.
---
Main tourist points
Mongolia is one of the fastest growing tourist destinations in the world, a truly fascinating country, culturally and historically, a great place to visit.
It is a country where you can find a huge variety of natural attractions that you cannot see anywhere in the world. Come explore Mongolia's national parks, nature protection areas, nature parks and natural monuments.
Ulan Bator is the main source of tourism in Mongolia.
To Visit: Gandantegchleng Buddhist Monastery, Tsonjin Boldog Hill, Bogd Khaan Museum, Gobi Desert, Yol Valley, Gobi Gurvan Saikhan National Park, Bayanzag (the Bayanzag Cliffs were nicknamed the Flaming Cliffs), Giant Gengis Khan Statue, the Naadam festival.
Mongolia has so many fantastic things to do and see.
---
Official language
Khalkh, Mongol, Kazakh.
---
Presentation
Mongolia is a country bordering China and Russia. The capital is Ulan Bator.
It is an adventurous destination where tourists can experience nomadic culture and vast untouched landscapes. The Mongols are fully aware of the unique beauty of their country. Characterized by spectacular scenery, vast steppes, rugged mountains, clear lakes and abundant wildlife and livestock, some areas are so remote that you can drive for a full day and see almost no sign of human habitation. It is this true desert experience that many people find so appealing.
---
Other world tourist destinations
---
City destinations and weekend getaways
---
Why to book with CLUBE TRAVEL
The best prices
Our partnerships with the world´s largest operators offer research on the best market prices.
More options
At Rotas Turisticos you can book the hotel, buy the air ticket, book the transfer from the airport to the hotel and vice versa, book the local excursions, rent the car, take travel insurance and consult the places to visit and where to go.
Holiday Tips & Destinations
Hundreds of holiday destinations with all the options that allow you to easily choose the destination that best suits your dream vacation.
---
---