Pictures of: Bovec, Slovenia
Hotels and other Accommodation
World Nomads
The Travel Insurance with the largest coverage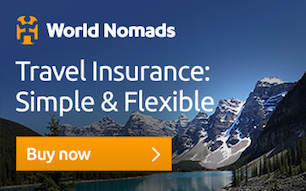 ---
Bovec
Between two Gothic churches is a square with typical Bovec houses, friendly restaurants, shops and hotels.
Bovec is a town just by the Triglav National Park and is the center of the Upper Soča valley. You can find some unique villages in the land of Bovec: Srpenica, Žaga, Čezsoški Log, Čezsoča, Plužna, Mangrtom Log pod, Kal-Koritnica, Lepena, Soča and Trenta.

Bovec's earliest mention is from 1174, but the story extends far back in time - to the Roman road through Predel and to the early Iron Age finds. In the past, Bovec was an important trade route between the port of Triest and Wienna that passed the city. Later, the area of ​​Bovec was affected by the first battles of World War II.
---
Tourism
Bovec is a premium outdoor resort on the sunny side of the Slovenian Alps. High mountains, emerald rivers and waterfalls; valleys surrounded by green woods, fresh air and tranquility. Bovec has it all. Sunday walkers, outdoor enthusiasts and adrenaline junkies will all find something interesting in these inspirational valleys. Visit Slovenia and enjoy your vacation in Bovec.
---
Gastronomy
Corn, potatoes, beans, vegetables and dairy products, meat and fish predominate in culinary recipes.
The recipes are varied and ingenious. For example, cornmeal is used to make at least 15 different dishes.

Traditional dishes in the Bovec area:
- čompe an skuta (potatoes and fresh cheese),
 - dried meat
 - lamb,
 - buški krafi (Bovec pockets).
---
Weather
The climate is warm and temperate.
Bovec has a significant amount of rainfall during the year.
Even the driest month still has a lot of rainfall.
According to Köppen and Geiger, this climate is classified as Cfb. The average temperature in ° ° is 10 ° C. About 1317 mm of precipitation falls annually.
---
Other tourist destinations in:

Slovenia
---
Other world tourist destinations
---
City destinations and weekend getaways
---
Why to book with CLUBE TRAVEL
The best prices
Our partnerships with the world´s largest operators offer research on the best market prices.
More options
At Rotas Turisticos you can book the hotel, buy the air ticket, book the transfer from the airport to the hotel and vice versa, book the local excursions, rent the car, take travel insurance and consult the places to visit and where to go.
Holiday Tips & Destinations
Hundreds of holiday destinations with all the options that allow you to easily choose the destination that best suits your dream vacation.
---
---