Hotels and other Accommodation
World Nomads
The Travel Insurance with the largest coverage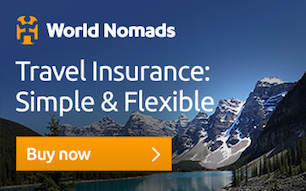 ---
Weather
The season with precipitation is overcast; the dry season is almost cloudless sky. Throughout the year, the climate is warm. Throughout the year, the temperature generally ranges from 12 ° C to 29 ° C and is rarely below 9 ° C or above 32 ° C.

The best time of year to visit Brasilia and perform warm weather activities is from early May to late September.
---
Presentation
Brasilia, inaugurated as the capital of Brazil in 1960, is a planned city that is distinguished by its white and modern architecture, essentially designed by Oscar Niemeyer. It is the federal capital of Brazil and the seat of government of the Federal District. It is located in the Midwest region of the country, along the geographical region known as Central Plateau. The Brazilian capital is the largest city in the world built in the twentieth century.
---
Security
With the exception of some known high risk areas (mainly in urban areas) and easily identifiable, tourist Brazil has a medium safety profile. Some caution and attention is advised when walking on foot in urban centers, especially at night, even in places of high tourist frequency, because of the possible occurrence of robberies and theft, sometimes with great physical violence.

Transporting and displaying any objects that may be viewed as valuable is not recommended. In the event of a robbery, he should not offer resistance or seek escape, given the high possibility of violence.

Motoring at night or using taxis that are not accredited by the tourist authorities or recommended by hotel units should be avoided.

Tourists are advised to bring only photocopies of their documents, leaving the originals in the hotel safe.
---
Tourist points
Brasilia is that perfect place to plan a last minute trip. On weekends and holidays, you will always find cheaper airfares to Brasilia and hotels are suddenly affordable. Brasilia is a beautiful city with unique urbanism and architecture. One weekend is enough to appreciate all of its monuments. The main points and tourist attractions are:
- TV Tower Lookout + Fair + Mané Garrincha Stadium
- Brasilia City Tour
- Pontão do Lago Sul
- Boat trip through Paranoá Lake
- Catetinho Museum + Alvorada Palace
- Cathedral
- Congress + Itamaraty
- Planalto Palace
- Digital TV Tower
- Monumental Axis at Night
---
Other tourist destinations in:

Brazil
---
Other world tourist destinations
---
City destinations and weekend getaways
---
Why to book with CLUBE TRAVEL
The best prices
Our partnerships with the world´s largest operators offer research on the best market prices.
More options
At Rotas Turisticos you can book the hotel, buy the air ticket, book the transfer from the airport to the hotel and vice versa, book the local excursions, rent the car, take travel insurance and consult the places to visit and where to go.
Holiday Tips & Destinations
Hundreds of holiday destinations with all the options that allow you to easily choose the destination that best suits your dream vacation.
---
---