Hotels and other Accommodation
World Nomads
The Travel Insurance with the largest coverage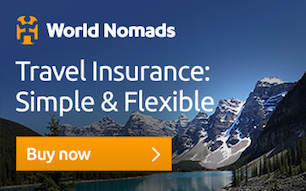 ---
Cuba
Cuba, officially the Republic of Cuba, is a Caribbean island country whose capital is Havana.
The Cuban nation consists of the main island of Cuba, Isla de la Juventud, and several archipelagos. Havana is the capital of Cuba and its largest city. The second largest city is Santiago de Cuba.
To the north of Cuba is in the United States and the Bahamas are to the northeast, Mexico is to the west, Cayman Islands and Jamaica are to the south and Haiti and the Dominican Republic are to the southeast.
---
Official language
Castilian
---
Currency
Cuban Peso (CUP) for Cuban inhabitants and Convertible Cuban Peso (CUC) for tourists.
---
Tourism
Going to Cuba is like taking a trip around the world in a perfect climate to climb over the ruins of French coffee farms or stroll in the Spanish colonial cities dating back to the 16th century.
Indulge in European-style spas or dance to Afro-Cuban and Latin rhythms.
Hike through the mountains and spectacular forests. Dive into one of the world's great reefs, and fish where Hemingway fished.

Traveling around the country alone or in groups is easy, fun and safe.
The 50,000 kilometers of roads link the country from east to west so you can get to know the people where and how they live.
The island's three main roads are National Thruway, Central Road and North Circuit.

Ecotourism
Well-preserved ecosystems, varied landscapes and a wide variety of flora and fauna make Cuba an exceptional Caribbean destination for nature lovers.

Sailing & Cruising
One of the Caribbean's most enchanting sailing areas, Cuba has its all-natural wonders, wonderful weather and historic charm.

Diving
On Cuba's coral reefs, divers help visitors admire thousands of vibrant underwater species in fabulous topography and fantastic wreckage.

 Cheers
While breathing hot air in Cuba, visitors can often take specific measures to improve their health, whether on vacation or on business.

Incentive Events and Travel
While the warmth and richness of color in the Caribbean of Cuba are the main business cards for meetings, events and incentive trips, they are well supported by local event planners and a solid infrastructure of hotels, tourist facilities, transportation and communications.

Hunting and fishing
Cuba has not neglected the world's everlasting passion for hunting and fishing.
---
Gastronomy
Cuban cuisine is a melting pot of culinary influences that have been slowly boiling together for centuries. Cuba's food and drink is an exotic and unrivaled blend of spices and technique, local ingredients, and Spanish and African Caribbean touches.
Fish and shellfish, meat, vegetables, as well as pork are among the most common ingredients in Cuban recipes.
These products are often prepared in different applications and served with rice, beans, ripe bananas, or cassava, a tasty potato-like prepared root. These side dishes are considered the basis of Cuban cuisine.
Lovingly called Cuba's signature dish, ajiaco, it combines some of the island's most typical ingredients. It is a nutritious pork stew and other essential additions such as rice, cassava, corn, sweet potato and pumpkin. It can be seasoned with onion, tomato, garlic, parsley, salt, pepper, lemon and turmeric.
As for desserts, Cuba has a sweet mix of Spanish influence for cane sugar and tropical fruit preparations resulting in a great pastry tradition.
Like its rum, Cuba is also famous for its elaborate drinks.
Some of the best known alcoholic beverages are mojito and daiquiri, two Cuban specialties that have their roots in some of Havana's iconic establishments. In addition, Cuba is known for its coffee: The Cuban Colada that is meant to be consumed in very small quantities due to its intense and bitter taste and stimulating effects.
---
Weather
Cuba's climate is tropical humid, with two well-defined seasons, drought (winter) from November to April, and rainy (summer) from May to October.
The average annual temperature is 25 ° C, the average winter is 20 ° C and summer is 26-27 ° C. During the winter season, cold fronts with minimum temperatures sometimes below 10 ° C are frequent.
Minimum temperatures range from 1 ° C to 8.5 ° C in the western part of the country and from 3 ° C to 12.5 ° C in the eastern part, maximum temperatures are recorded between 36 ° C and -38 ° C.

Rainfall averages 1,200 mm annually with about 30% of rainfall in the winter and the remaining 70% in summer, and is generally more abundant in the west than in the east.
---
Documentation
All foreign visitors must have an updated passport valid for at least 6 months from the date of entry to Cuba, and an Entry Visa or Tourist Card issued by a Cuban embassy or consulate in the visitor's home country.
The tourist card can also be obtained from Cuban consular offices or credited with travel agencies, airlines or Havana International Airport. There are two types of tourist card: one for individual tourists and one for tourists traveling in groups.
---
Health
Cuba is one of the tropical countries with the highest health level and where epidemics are most controlled. There is no need in principle to consider any obvious health risk. Vaccination is not compulsory or necessary, just by taking a few minimum precautions that can help you avoid surprises regarding sunstroke, food poisoning, mosquitoes and drinking water in some parts of the island.
Health restrictions exist only for travelers from countries where yellow fever and cholera are endemic or in areas of infection have been declared by the World Health Organization, in which case it is required to present the International Certificate of Vaccination.
---
Security
With a very low crime rate, it is safe to walk on the street at any time of the day. Even in hotels, it is safe to leave all luggage. As a precaution, however, leave cash, passport and credit cards in the room safe. On the beach and in public transport, you should pay attention to the so-called pickpockets.
---
Telecommunications and electricity
Phones
On arrival in Cuba, you can rent a mobile phone at a Cubacel office, or use your own mobile phone to enable roaming.

Electricity
Normally, the electric current is 110 volts and 60 cycles (which implies an adapter), but in most hotels of international standard, the outlets are already 220 volts.
---
Other tourist destinations in:

Cuba
---
Other world tourist destinations
---
City destinations and weekend getaways
---
Why to book with CLUBE TRAVEL
The best prices
Our partnerships with the world´s largest operators offer research on the best market prices.
More options
At Rotas Turisticos you can book the hotel, buy the air ticket, book the transfer from the airport to the hotel and vice versa, book the local excursions, rent the car, take travel insurance and consult the places to visit and where to go.
Holiday Tips & Destinations
Hundreds of holiday destinations with all the options that allow you to easily choose the destination that best suits your dream vacation.
---
---