Pictures of: Krabi - Thailand
Hotels and other Accommodation
World Nomads
The Travel Insurance with the largest coverage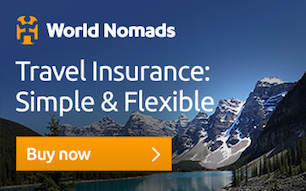 ---
Krabi
Krabi is one of the southern provinces (changwat) of Thailand, at the shore of the Andaman Sea. Neighboring provinces are (from north clockwise) Phang Nga, Surat Thani, Nakhon Si Thammarat and Trang. The Phuket province to the west is also neighboring, but without any land boundary. The capital of the region is the city of Krabi.
---
Tourism
Hat Noppharat Thara – Mu Ko Phi Phi National Park - Covering the areas of Tambon Nong Thale, Tambon Sai Thai, Tambon Ao Nang and Tambon Pak Nam, Amphoe Mueang, Hat Noppharat Thara – Mu Ko Phi Phi National Park has an area of 242,437 rai in which 200,849 rai is water. There are 3 distinctive kinds of forest here: moist evergreen forests, mangrove forests and peat swamp forests.
Attractions of Mu Ko Phi Phi:
Ko Phi Phi Don
Ko Phi Phi Lee
Hat Noppharat Thara
Su-san Hoi (Shell Cemetery)
Ao Nang Beach is Krabi's most developed beach.
There are more than 83 offshore islands, which some of them are shaped like a boot, junk, or parrot's head. Ko Poda, Ko Mo and Ko Thap are popular destinations among tourists for their beaches and coral reefs. They are popular islands for diving and snorkelling.
Hat Rai Le (Rai Le Beach East/West)
Pra Nang Beach (Princess Cave Beach)
Hat Ton Sai (TonSai Beach)
Thale Waek or Separated Se
Than Bokkhorani National Park
Apart from its natural attractions, Krabi is also a popular place for scuba diving and snorkelling, kayaking, rock climbing, and jungle treks by foot, mountain bike or elephant. Famous spots for kayaking include Ko Hong, Ko Karot, Ko Phak Bia, Ko Ku Du, and Tha Len, while Tham Phra Nang and Hat Rai Le are a mecca for climbers from all over the world. Abseiling has currently become another popular sport in Krabi.
Located 35 kilometres from the provincial town, Ban Tha Len, abounds with mangrove forests and ghost crabs. Tham Khangkhao or the bat cave has impressive stalactites and stalagmites. There is a panoramic view of Krabi's sea, offshore islands, and mangrove forests are visible.
Diving & Snorkeling Diving in Krabi is one of the favorite pastimes of tourists because the waters are home to the likes of friendly leopard and whale sharks, turtles, moray eels and dolphins.
Rock Climbing in Krabi has grown very popular over recent years.
Sea Kayaking. With a coastline composed of mangroves, limestone, small coves, caves and islands, and an interior with rivers lined with cave systems. Krabi provides a popular environment for kayaking.
Bird Watching. There are many hard-to-find birds such as: Gurneys, Finfoots, Bigwinged Brown Kingfishers, Egrets, Bitterns and Herons etc.
Sailing & Cruising Krabi has plenty of anchorages but usually deserted.
Fishing Fishers catch the likes of marlin, sailfish barracuda and tuna.
ungle Trekking Krabi's forests with attractive flora and fauna are popular for trekking. The Khao Phanom Bencha National Park and the Khao Pra-Bang Khram are regarded as the two of the favorites among trekkers.
Golf Krabi has one 18-hole golf course to the south of Krabi town with a new development currently underway by an international group including Colin Montgomery.
---
Gastronomy
Local cuisine has an abundance of original dishes. Those who prefer hot and spicy food can enjoy a holiday in Krabi's restaurants. The abundance of spices and herbs is one of the main distinctive features of the national cuisine. For many travelers, accustomed to European cuisine, this feature is a real problem. The best salvation for those struggling with spicy dishes is rice. It forms the basis of local cuisine, which is why it is almost always on the table.

Rice becomes the base of interesting side dishes for meat, as well as for original independent dishes. Khao suay, meaning crunchy rice eaten with a spoon, and khao nieo, which means gelatinous rice, which is usually eaten with your fingers. One of the most popular dishes among travelers is khao phat, fried rice, which can be complemented with a wide variety of ingredients. Pieces of vegetables or meat, fish or vegetables - these are components, because of which khao phat has thousands of variations.

Another important component of national cuisine is pasta. Depending on your preferences, you can enjoy the softest rice noodles or order appetizing egg noodles. Those who prefer energetic foods would find khqetthieo sen yai, thick and healthy pasta. In addition to rice, the pasta can be served in addition to meat or fish, as well as a separate dish.

Exotic fruits remain the top desserts. It is worth noting that the local population does not pay special attention to sweets. The sweet meringue, which can be ordered in local cafes or bought in the market, is widespread. Several puddings are prepared with rice and vegetables; Meat pies with various fruit fillings are ubiquitous. The island also has some trendy eating places that would surprise visitors with an abundance of exotic dishes and attractive outdoor cafes that low budget travelers would like.
---
Weather
The best time to visit Krabi is between the months November to April when the area is less hot than usual. During this period the island gets a lot of dry North Easterly winds, giving dry blue skies and starry nights. Then, down on the beaches one can enjoy nice sea breezes. From June to November the area gets a lot of rainfall, more on average than the rest of the country. During this period the island gets a lot of moist South Westerly winds, so giving a mixture of dry days and wet ones. The weather is clear. Visitors however, coming in this period will find it cheaper.
---
Other tourist destinations in:

Thailand
---
Other world tourist destinations
---
City destinations and weekend getaways
---
Why to book with CLUBE TRAVEL
The best prices
Our partnerships with the world´s largest operators offer research on the best market prices.
More options
At Rotas Turisticos you can book the hotel, buy the air ticket, book the transfer from the airport to the hotel and vice versa, book the local excursions, rent the car, take travel insurance and consult the places to visit and where to go.
Holiday Tips & Destinations
Hundreds of holiday destinations with all the options that allow you to easily choose the destination that best suits your dream vacation.
---
---