Pictures of: Essaouira, Morocco
Hotels and other Accommodation
World Nomads
The Travel Insurance with the largest coverage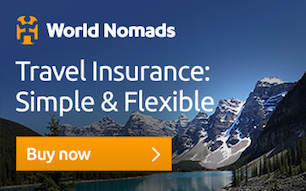 ---
Essaouira
Essaouira formerly Mogador, is a city on the southwest coast of Morocco, capital of the homonymous province, which is part of the Marrakech-Tensift-Al Haouz region.
The city is considered by many to be the most pleasant beach resort in Morocco, due to its extensive sand, dunes and historical center, classified by UNESCO as World Heritage in 2009, a mixture of 18th century town with a medieval village surrounded by ramparts which in turn are surrounded by flower beds and the Atlantic Ocean. It is known by windsurf lovers for its winds, which is in the origin of the tourist epithet "Wind City, Afrika".
---
Tourism
Unique and not to be missed on a trip to Morocco.
City of the wind, inserted in the list World Heritage by UNESCO.
Essaouira is a beautiful city, where its old part is within castle walls, pointing towards the sea.
You can visit several monuments, the fish markets and the lota where the boats arrive, several defense towers and explore the alleys inside the old medina.
Essaouira is also known for being a perfect destination for those seeking radical sports in Morocco.
Here there are several surf schools to practice or learn to surf, wind-surf and kite-surf. There are schools and places to rent equipment near the beach.
Since the 16th century the city is also known by its Portuguese name Mogador.
In 1506, the king of Portugal, D. Manuel I ordered the construction of a fortress called the Royal Castle of Mogador.
---
Gastronomy
The Moroccan gastronomy displays a dish known all over the world: the couscous. However, in this region, the gastronomic wealth is due in large part to the proximity of the sea. It is worth tasting the famous fresh fish from the Bay of Essaouira.
---
Weather
The temperature reached averages of 16.4 ºC in January and 22.5 ºC in August.
The average annual rainfall is 280 mm.
---
Other tourist destinations in:

Morocco
---
Other world tourist destinations
---
City destinations and weekend getaways
---
Why to book with CLUBE TRAVEL
The best prices
Our partnerships with the world´s largest operators offer research on the best market prices.
More options
At Rotas Turisticos you can book the hotel, buy the air ticket, book the transfer from the airport to the hotel and vice versa, book the local excursions, rent the car, take travel insurance and consult the places to visit and where to go.
Holiday Tips & Destinations
Hundreds of holiday destinations with all the options that allow you to easily choose the destination that best suits your dream vacation.
---
---